Jayco Jay Feather Inventory:
Standard Exterior Equipment
Aerodynamic, rounded front profile with front diamond plate
Modern retro graphics package with two-colored sidewall
TuffShell vacuum-bonded, laminated floor, side, rear and front walls including slideout room walls
Vacuum-bonded, laminated bed platforms with reverse-cambered support (1,000-lb. capacity) (all hybrids)
Keyed Alike lock system on tent latches (all hybrids)
Magnum Truss Roof System with one-piece seamless Di-Flex II material
Norco NextGen frame with integrated A-frame
Single axle (X17Z only)
Dual axles (N/a X17Z)
G20-tinted safety-glass windows
Marine grade exterior speakers (2)
Dexter EZ Lube axles
Galvanized steel, impact-resistant wheel wells
Slideouts with double seals, barrier sponges and U-channel drip spout (applicable models)
30-amp service
Outside grill propane quick-connect port
Water-repellent, scratch-resistant Jayco DuraTek vinyl tent material with zipper windows (all hybrids)
Permanently attached tent-to-bed base design (all hybrids)
Rear camera backup prep (models)
Keyed Alike lock system
LED exterior lighting including S.M.A.R.T. Backup Rear LED Lights
Folding assist handle on main entry doors
Standard Interior Equipment
Screwed and glued cabinetry
Smoked-glass decorative inserts (overhead cabinets)
Ball-bearing drawer glides with 75-pound capacity
Crown molding on ceiling
LED lighting throughout
6-cubic-foot refrigerator (N/A X17Z)
Residential oven with 3-burner cooktop and upgraded grate exterior
Residential-style seamless kitchen countertops
Vinyl plank-style flooring
Microwave
Plywood dinette, bunk and bed bases
New Murphy bed design allowing 100% pass-through exterior storage access
4-inch high-density dinette cushions with vinyl backing
Woodgrain accent paneling on interior walls
Jayco-exclusive Simmons mattress with bedspread (models)
Teddy Bear "soft-touch" residential style mattress (all hybrids, bunks 19BH, 21RL, 22BHM, 23RBM, and 24BHM)
110V outlet and corner shelf in fixed bunks
USB/110V recessed tower in kitchen or living area
Plastic foot-flush toilet in all models
Bath skylight and roof vent
Solid shoer enclosure (N/A X24K, 21RL, 22RB, 22BHM, 23RBM, 23RL, 24BHM, 24RB, 25BH, 27RL, and 29QB)
Tub/shower surround
Customer Value Package (Mandatory)
American-made nitro-filled Goodyear radial tires with self-adjusting brakes
Aluminum rims
20-pound propane bottles with auto regulator (2)
13,500-BTU A/C
Spare tire and cover
Detachable power cord
Power awning with LED lights
Black tank flush
Outside shower
Exterior TV bracket with 110V electric and cable outlets
Power tongue with manual stabilizer jacks (4)
6-gallon gas/electric DSI water heater
Solar prep (roof mounted)
AM/FM/CD/DVD/Bluetooth stereo
Enclosed underbelly with glacier package
Options
Baja Package (X24K, 20BH, X212, X213, 23RBM, 24BHM, 23BHM, 24RL, 27BH): 15-inch off-road Goodyear mud-tired, aluminum rims, flipped axle, enclosed underbelly with foil insulation
Canadian Standards
Tri-Fold Sofa (X23E, 24RL, 25RB, 27BH, 27RL, 29QB)
24" LED TV (X17Z, X22N, X23B, X213)
32" LED TV (X19H, X20D, X23E, X24K, X212, 20BH, 21RD, 23BHM, 23RB, 23RBM, 24RL, 24BHM, 25RB, 27BH, 27RL, 29QB)
15,000-BTU roof-mounted A/C
Exterior Grill
Fan-Tastic Vent power roof vent
Placement-specific per model
Outside Kitchen (X24K, 29QB, 23BHM, 27BH)
Roof Ladder (X24K, 20BH, 21RD, 23BHM, 23RB, 23RBM, 24RL, 24BHM, 25RB, 27BH, 27RL, 29QB)
2-bike carrier rack (A-frame-mounted)
2nd A/C (requires 50 amp service) (27RL, 29QB, 24RL, 27BH)
Power stabilizing jacks (27RL, 20BH, 21RD, 29QB, X212, X213, 23RBM, 24BHM, 23BHM, 23RB, 24RL, 25RB, 27BH)
30-lb. propane bottle with auto regulator with cover (2) (27RL, 20BH, 21RD, 29QB, X212, X213, 23RBM, 24BHM, 23BHM, 23RB, 24RL, 25RB, 27BH)
4" Heated Bed Mat (2) (X23B, X19H, X22N, X17Z)
4" Heated Bed Mats (3) (X20D, X23E)
Drying Rack/Sink Cover
50 Amp Service with 2nd A/C Prep (27RL, 29QB, 24RL, 27BH)
Theater Seating with Heat and Massage (24RL, 25RB, 27BH, 29QB)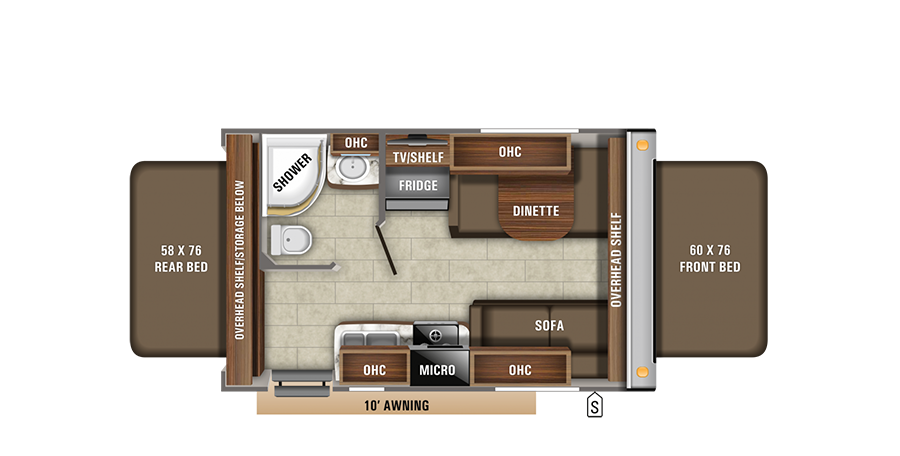 Jay Feather X17Z
UVW: 3,195 lbs Hitch Weight: 450 lbs Length: 18' 4"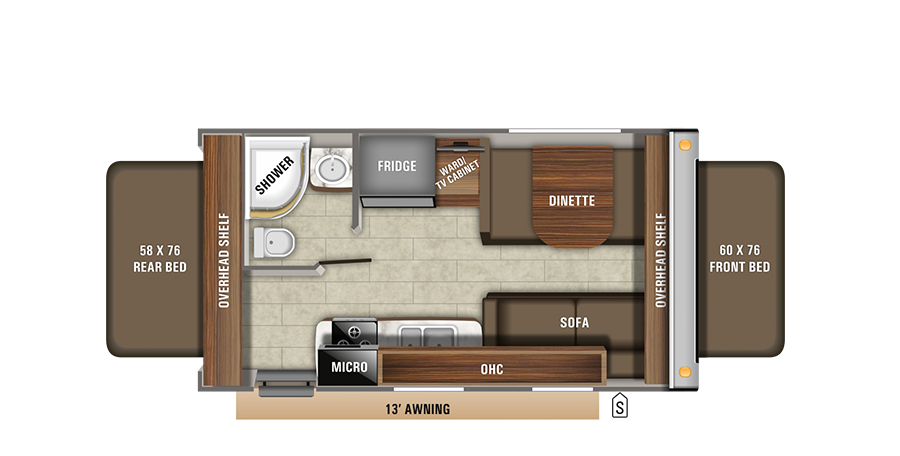 Jay Feather X19H
UVW: 3,815 lbs Hitch Weight: 367 lbs Length: 20' 8"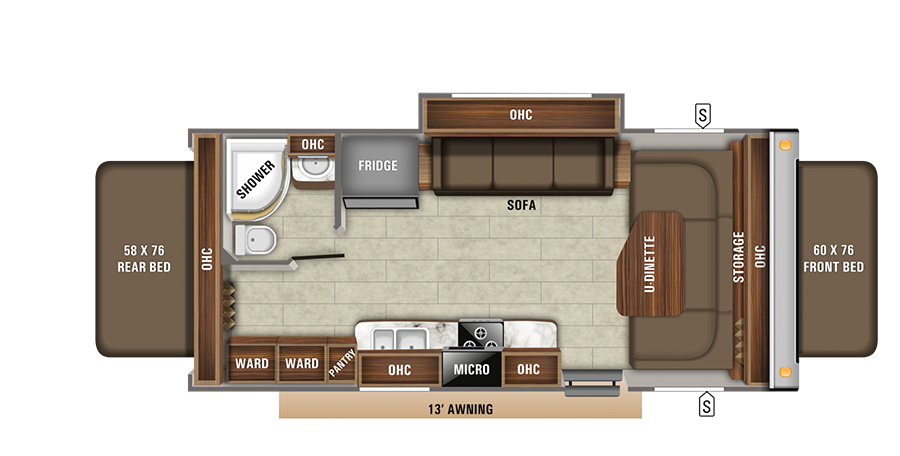 Jay Feather X23B
UVW: 4,425 lbs Hitch Weight: 495 lbs Length: 24' 5"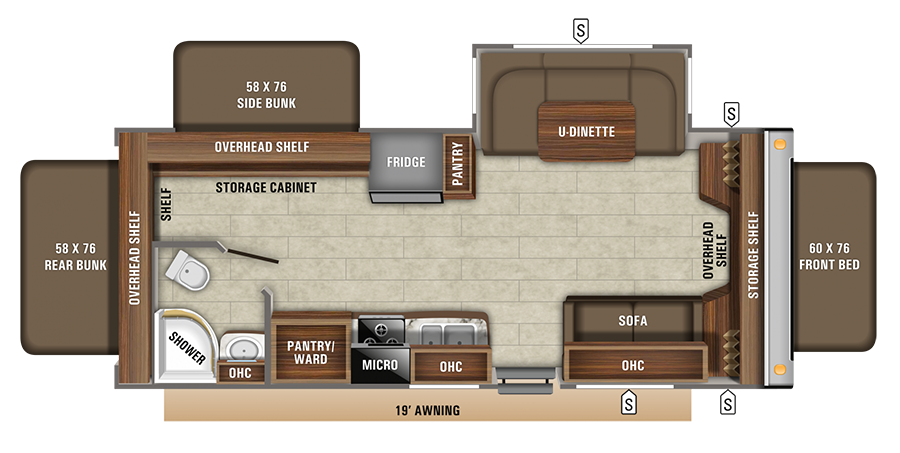 Jay Feather X23E
UVW: 5,105 lbs Hitch Weight: 620 lbs Length: 26' 8"

Jay Feather X213
UVW: 4,460 lbs Hitch Weight: 438 lbs Length: 24' 1"
Jay Feather 20BH
UVW: 4,290 lbs Hitch Weight: 505 lbs Length: 23' 9"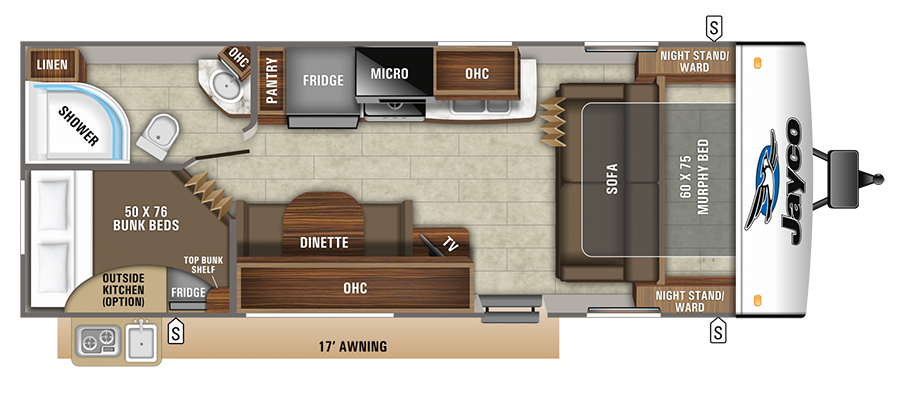 Jay Feather 22BHM
UVW: 4,850 lbs Hitch Weight: 530 lbs Length: 28' 9"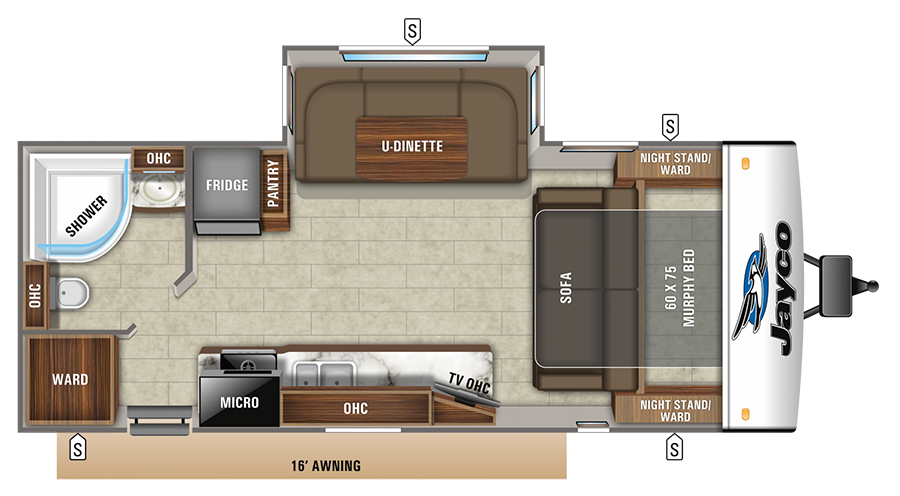 Jay Feather 23RBM
UVW: 5,040 lbs Hitch Weight: 525 lbs Length: 27' 0"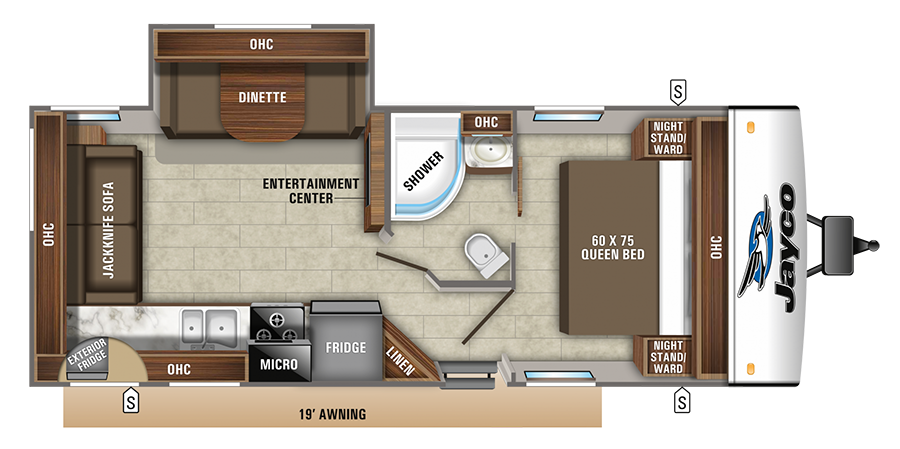 Jay Feather 24RL
UVW: 5,285 lbs Hitch Weight: 584 lbs Length: 28' 5"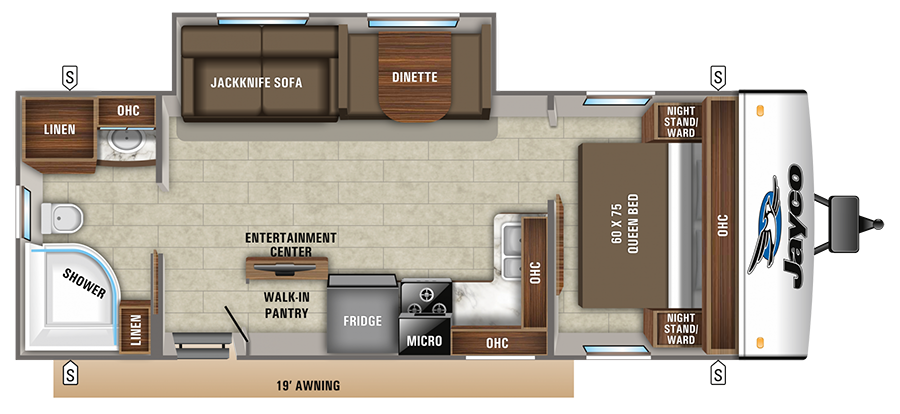 Jay Feather 25RB
UVW: 5,595 lbs Hitch Weight: 560 lbs Length: 30' 5"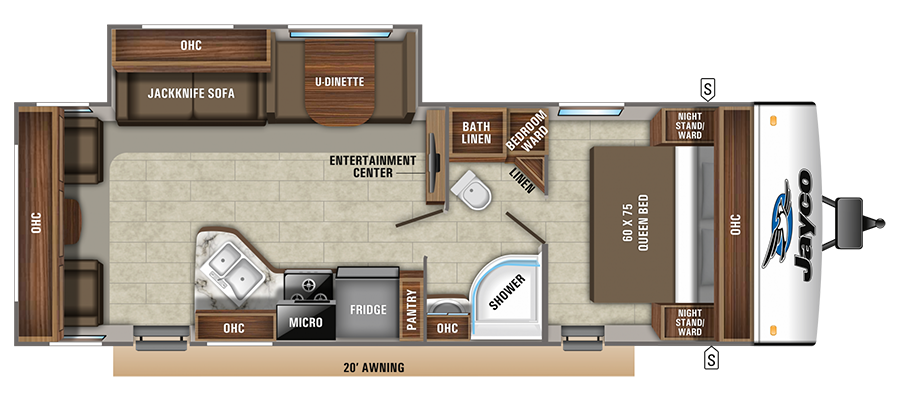 Jay Feather 27RL
UVW: 5,755 lbs Hitch Weight: 650 lbs Length: 31' 6"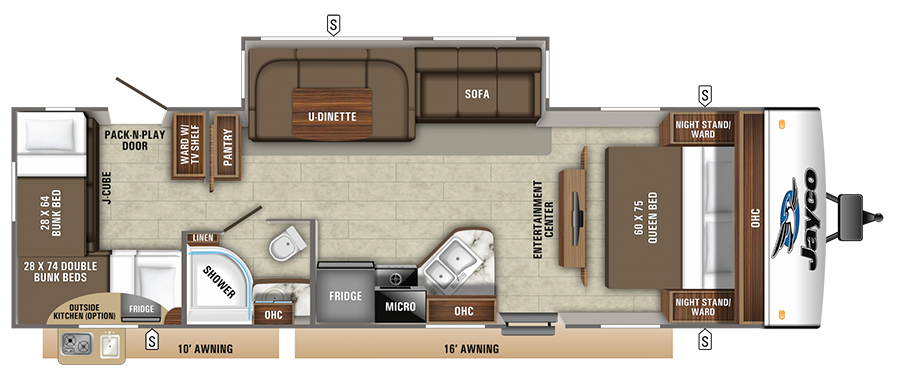 Jay Feather 29QB
UVW: 6,425 lbs Hitch Weight: 725 lbs Length: 34' 11"